We offer a service called the 'Signature Service'. With this service we mark your English name Capital leeters on the back of your ticket after purchasing.
Identity Confirmation and the Legal Authority of Signatures is very strong in the United States.
If your credit card name or passport name is not the same, your credit card payment will be rejected, and you may be asked to present idenfication following transaction failure.
According to US Law, if you request Signature Service for a MegaMillions or PowerBall Ticket, the GGLotto Offline Purchasing Manager will print out your English name in Capital letters on the back of your game ticket.
If you win the Jackpot or 2nd Prize of the US MegaMillions or PowerBall while using the GGLotto service,
you will be asked for Official Identification to begin the prize money claim process.
Only the person named on the back of a signed ticket can claim the winnings.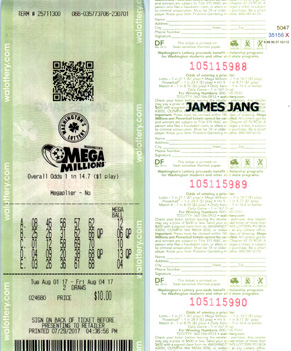 Filling out an English Naming for purchasing customers is a policy which is conducted by several global lottery purchasing firms.
Purchased Lottery Ticket scanned files are provided in one combined file which shows the front and back of the ticket.
GGLotto uses a Kodak i1150 double-sided scanner.
The GGLotto staff does not make any changes to the default settings of the Kodak i1150 scanner used to create the double-sided ticket scan images that are sent to customers following purchase. We use this equipment to make a scanned copy of all tickets purchased on behalf of our customers, and we make no modifications to the images following scanning. They are sent as-is to our customers
The signed name on the back of the ticket is partially viewable through a front-scan of the ticket, confirming that it is the same ticket in both images.
*The numbers on the upper right side of the back of each tickt are administration numbers which are used only for administrative purposes by GGLotto, and have no relation to the prize amounts, Jackpot, or 2nd Prize winnings
You can view scan(s) of your purchased ticket(s), sent to your email, or through 'My Account'.
The image on the right is a sample of a scanned ticket as shown on 'My Account'.
1) The scanned file is also sent as an email attachment with the purchase confirmation email.
2) You can also download the scan file from 'My Account'.
3) If you view the file in Original Size then you can clearly see your signed name in both the front and back scan images.
Your name is printed after the purchasing and before the scanning.
Tickets are first purchased based on customer orders from an Official Lottery Store, then signed if Signature Service is requested, then scanned and sent to our customers.